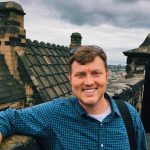 I'm a graduate of the University of Virginia. I grew up in Atlanta, Georgia, but I currently call Charlottesville, Virginia home. My interests include photography, music, writing, and learning more about God. I've been blessed with wonderfully talented friends that are really good for me.
In 2005-06 I was a Fellow in the Trinity Fellows Program at Trinity Presbyterian Church here in Charlottesville, which was probably one of the most important and formative years of my life.
I currently work in Charlottesville as an underwriting analyst for OPUS Underwriting Limited which is based in the UK.
When I'm not working, I like to read, write, take pictures, and discover new music.  I have previously been a board member of both the New City Arts Initiative and Theological Horizons, two very cool organizations here in Charlottesville that I'm proud to have been a part of.