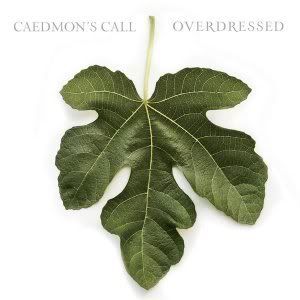 The first review of Overdressed is in from Christian Music Today, and it's a glowing one.
Sounds like: earthy acoustic pop and folk reminiscent of Paul Simon, Andrew Peterson, Rich Mullins, and the earlier releases from Caedmon's Call.
At a glance: with superb songwriting and an eclectic, catchy folk-pop sound, Overdressed is easily one of the best from Caedmon's Call.

I've got to admit, after the 2006 release of In the Company of Angels II I was pretty much convinced that it was the end of Caedmon's Call as we knew it.

There's certainly nothing wrong with the occasional artistic diversion—the Christmas album, the worship album, the live album, the strip-it-down-unplugged-acoustic album. But this band had already done the worship music thing—with much aplomb—on 2002's In the Company of Angels, not to mention contributions to the acclaimed City on a Hill projects. Once the relatively lackluster and unimaginative sequel surfaced, it seemed to signal the end of a career that's been hit-and-miss in recent years. A sad loss considering what a colorful run they've had with innovative musicianship and thoughtful lyricism.

Along comes their fifteenth album, and imagine my surprise. Not only does Overdressed mark a return to the signature folk and acoustic pop sound characterized by Caedmon's Call's 1997 national debut and 1999's 40 Acres, but even former member Derek Webb is back along for the ride, reminding us just how much his presence was missed in this band. Couple all that with a new partnership through INO Records—Webb's label home for his solo work—and it seems like Cliff Young and company have plenty of life in them to last a good long while yet. And if they continue writing songs as catchy and thoughtful as this album, then that's a very good thing for all of us.

Like previous Caedmon's outings, Overdressed is an eclectic, community effort, but now with four singers between Webb, Cliff & Danielle Young, and Andrew Osenga contributing to the lead vocals and harmonies. It only emphasizes the fluidity of the band's lineup, and against all odds, it really does work in conjunction with their eclecticism. It also brings a fresh range of perspective in the songwriting. Considering Webb's tell-it-like-it-is approach and the band's involvement with social causes (Compassion International, the Dignity Freedom Network, the band's Share the Well Foundation), it should come as no surprise that missional living, social consciousness, and authentic Christian living are reoccurring themes on Overdressed.

The messages come across loud and clear, starting with Webb, who lays out what could essentially be the album's thesis with the soulful, somewhat twangy opener "Trouble." A perfect match for his thoughtful lyrics and emotive vocals, Webb sings about how trouble is "the book running through my veins," underscoring our all-too-blatant need for the grace of a Savior.

From there, Osenga adds further texture to the band's sound by throwing in some rock 'n' roll with the decidedly unfussy "Need Your Love." In musical contrast to that is "Two Weeks in Africa," a playful fusion of folk and world music inspired from the band's missions trips to Third World nations. Similar to 2004's Share the Well in scope, not to mention Paul Simon's Graceland, the song's dramatic instrumentation is bound to make this a crowd-pleaser in concert.

He also delivers one of the album's catchiest hooks with the pop flavored "Expectations." But lest anyone dismiss it as lightweight, the lyrics give listeners more to chew on by exploring the contrast between marketing Christian culture and a true life of faith: "This is not what it looked like on the billboard."

Of course, it just wouldn't be Caedmon's Call without the core contributions of Cliff and Danielle Young. Their vocals and harmonies are as pristine as ever—Cliff shining on the beautiful testament of faith "There Is a Reason," Danielle with the celebratory tone of "Sacred." But the couple also sounds more personable than ever on the whimsical "Love Grows Love," offering listeners some insight into their love story years ago: "You said to put on a happy face on a high school stage/But I read what you really meant in your handwriting on a Bible page/You waited like you told me, though we knew it right away."

They're not the only husband/wife collaboration that works well on Overdressed. Webb and his wife Sandra McCracken offer up "Share in the Blame" with hit-you-where-it-hurts-lyrics that calls us to accept responsibility rather than blame others for our problems. Danielle's lovely harmonies wonderfully compliment Webb's lead, making it beautiful, affecting, and one of the album's best songs.

For most bands, too many cooks in the kitchen would cause them to sound unfocused or disjointed. Caedmon's Call, however, is not like most bands. Their diversity in songwriting themes, their multi-faceted sound, and their variety in vocals all work in their favor. Overdressed is not only a superb and well-crafted return to form for this band; it may well be their best album to date.
Five Stars well deserved, I say. If you haven't picked it up yet, do so here to get 2 copies for $12, as well as getting 2 bonus tracks on the disc.