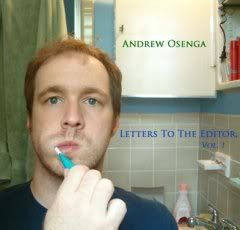 It's a perfect day for some great new music. One of my favorite musicians, Andrew Osenga, released a digital EP via his blog last night that is, in a word, amazing.
Clocking in at 6 tracks and just under 21 minutes, the album started off as an interesting idea: Andrew would write and record some songs, but the community that visits his blog / website would provide the inspiration for the record, sending in pictures, drawings, paintings, stories, cool words, or ideas they wished someone had written about. Andrew based each of the six songs off of an idea that was contributed from the community, which is pretty cool. I haven't heard of or seen anything quite like it before; I'm sure that similar projects will become more commonplace as musicians grasp hold of the internet as a tool to promote community interaction between fans and artists.
But Andy went a step further. A really, really interesting step further.
For one of the songs, "Swing Wide the Glimmering Gates," Andrew invited the community to contribute background vocals (webground vocals?) that he would add to the mix. He uploaded a guitar part and two different harmonies which people recorded singing on their own and sent back to him. He combined all of the voices together to make a chorus at the end of the song filled with the very people that inspired the album in the first place, the people who would probably be the ones buying it. 😉 How innovative is that?
I got my name in the credits, which is pretty cool, and I had a lot of fun recording my vocals. I can pick out my voice at the very end as the chorus of voices becomes more prominent. I PayPal'd him $9, but the entire album is available for free from his website. Donations are suggested, but it's completely up to you. I highly recommend going over and downloading the album — you have nothing to lose, and it's a very fun, solid project. Andrew added "Vol. 1" in the title, so here's hoping that he continues to make more EPs like it.
The entire album was recorded between May 23 and June 6, 2007. He released it last night, on June 12th.
20 days from conception to release.
Welcome to the new face of music. It's beautiful.
Andrew Osenga – Letters to the Editor, Vol. 1

Download Page with PayPal Donation Link

Direct Album Download (.zip)
Letters to the Editor, Vol. 1 – Tracklisting


1. Andrew Osenga – Wanted (2:49)
2. Andrew Osenga – The Ball Game (3:45)
3. Andrew Osenga – You Leave No Shadow (3:46)
4. Andrew Osenga – Anna and the Aliens (3:07)
5. Andrew Osenga – The Blessing Curse (2:40)
6. Andrew Osenga – Swing Wide the Glimmering Gates (4:45)